I've been tagged by Deb at
Life in the Dweeb Lane
in
a post called "Photo Tag".
Here are the rules:
Go to the 4
th
folder in your computer where you store your pictures.
Pick the 4
th
picture in that folder.
Explain the picture.
Tag 4 people to do the same.
This could get funky but lets see now.
Well at least it turned out to be a little interesting.
I mentioned before that I do a lot of Genealogy research
here in my state and county. I am also dedicated
to the recording of old cemetery's in the county so
that there are records of those buried in them. Some
cemetery's are very old and the stones are fading,
deteriorating and broken. Some by time and unfortunately
some by vandalism. So it has been my mission to record
as many as I can and donate the information on my
genealogy website "
Dust in the Attic
".
It has given me great satisfaction in doing this so that
future generations will have the records. It has also been
a very rewarding work in the fact that I have been able to
help so many in their research of their own Family Tree.
So the 4th file and the 4th picture is from my genealogy work.
This is a tree stump family stone in the "Prairie View Cemetery".
I thought it was so unusual and I had never saw a stone like it
in all of my researching. The moss that has found a home on it
just adds to the image of the tree stump, almost making it
appear as a real tree stump.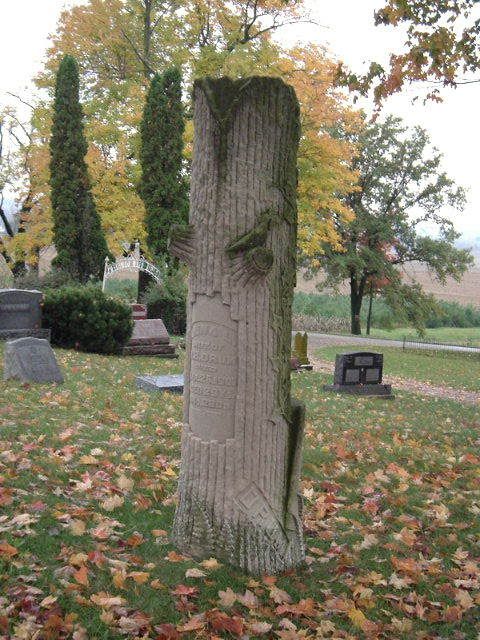 Since some do not go for the "Tagging" fad I will
list four but leave it up to them if they want to
participate in the game.
They are:
Robin at
Life at Robin's Nest
Kim at
Wishnik Woods
Cindy at
Cinj's Chat Room
Areie-el at
Gardener's Roost